Harpers Bazaar (UK)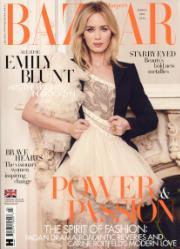 Click for a bigger cover
| | |
| --- | --- |
| Art. no. | 0266 |
| Title | Harpers Bazaar (UK) |
| Issue | 202003 |
| Sales date | Feb. 18, 2020 |
| In store until | March 24, 2020 |
| Price Sweden | 75.00 SEK |
| Price Norway | 129.00 kr |
| Country | Storbritannien (GB) |
| No of issues | 12/year |
Find a dealer
Search for retailers near you:
Buy online
You can subscribe or purchase a single issue of this magazine through pressbyrån.se Buy
---
Description
Welcome to the new Harpers Bazaar. It s been amazing as they ve geared up to change from Harpers & Queen; a move that felt vital, given the direction the magazine has taken in recent years, with a greater emphasis on fashion, the arts, and features on the people shaping our lives. Harpers Bazaar, formerly Harpers & Queen, is one of the world s most influential fashion titles and is the must have for stylish minds. Harpers Bazaar is for the sophisticated, discerning woman, bringing together a perfect mix of stunning fashion stories, informed arts coverage, informative beauty pages and strong, intelligent features every month.