Vogue (US)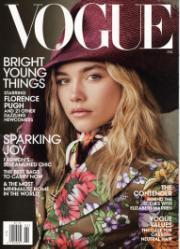 Click for a bigger cover
| | |
| --- | --- |
| Art. no. | 0608 |
| Title | Vogue (US) |
| Issue | 202002 |
| Sales date | Feb. 11, 2020 |
| In store until | March 17, 2020 |
| Price Sweden | 159.00 SEK |
| Price Norway | 189.00 kr |
| Country | USA |
| No of issues | 12/year |
Find a dealer
Search for retailers near you:
Buy online
You can subscribe or purchase a single issue of this magazine through pressbyrån.se Buy
---
Description
Vogue is the fashion industry s style guru. Every issue is elegant, eclectic, and always up-to-date. Features include the latest in popular culture, fashion, and entertainment. Plus, tips on hair, makeup, exercise, health, and relationships. Vogue is the world s fashion authority. Packed with the latest trends, Vogue features fashion, style, beauty, art, and entertainment. In every issue, you ll get Vogue s View, Vogue s Most-Wanted, and Vogue s Index. Plus, how to maximize the new minimal style. Sexy, sparkling party clothes. What s next in status accessories. The best bathing suits. Monthly.