Marie Claire (UK)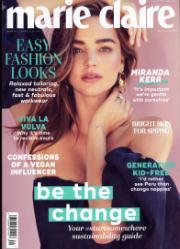 Click for a bigger cover
| | |
| --- | --- |
| Art. no. | 0614 |
| Title | Marie Claire (UK) |
| Issue | 201904 |
| Sales date | March 19, 2019 |
| In store until | April 23, 2019 |
| Price Sweden | 65.00 SEK |
| Price Norway | 77.00 kr |
| Country | Storbritannien (GB) |
| No of issues | 12/year |
Find a dealer
Search for retailers near you:
Buy online
You can subscribe or purchase a single issue of this magazine through pressbyrån.se Buy
---
Description
Marie Claire explores the passions and events that shape and intrigue today s woman. As a monthly magazine, it serves as a consistent guide to what s going on in the world of the sophisticated woman. Articles cover fashion, beauty, celebrity gossip, fitness, and relationships.