Fly Tyer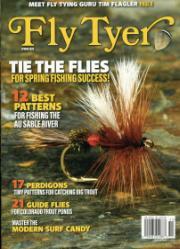 Click for a bigger cover
| | |
| --- | --- |
| Art. no. | 2034 |
| Title | Fly Tyer |
| Issue | 202002 |
| Sales date | March 31, 2020 |
| In store until | May 26, 2020 |
| Price Sweden | 139.00 SEK |
| Price Norway | 165.00 kr |
| Country | USA |
| No of issues | 4/year |
Find a dealer
Search for retailers near you:
Buy online
You can subscribe or purchase a single issue of this magazine through pressbyrån.se Buy
---
Description
Fly Tyer is your single best magazine source for complete fly-tying information. No matter what kind of flies you tie, coldwater, warmwater, or saltwater patterns: each quarterly issue of Fly Tyer covers everything from techniques and materials to innovations and fly-tying history. If you want to improve your tying, Fly Tyer will help. Its support for photography has attracted the some of best fashion photographers in the world, such as: Steven Klein, David La Chapelle, Terry Richardson, Nobuyoshi Araki, Hedi Slimane and Karl Lagerfeld.