Gala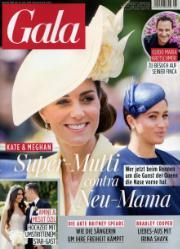 Click for a bigger cover
| | |
| --- | --- |
| Art. no. | 2125 |
| Title | Gala |
| Issue | 201925 |
| Sales date | June 20, 2019 |
| In store until | July 4, 2019 |
| Price Sweden | 55.00 SEK |
| Price Norway | 65.00 kr |
| Country | Tyskland |
| No of issues | 52/year |
Find a dealer
Search for retailers near you:
Buy online
You can subscribe or purchase a single issue of this magazine through pressbyrån.se Buy
---
Description
A clear structure characterizes the three main topics of Germany s prominent women s magazine: The News . GALA reports on the people of the week. Takes stock of trends in culture, politics, business and sports. The interviews are honest and personal with an independent style of photography. This is GALA s new journalistic standards for high-class entertainment. The lifestyle . See recent trends come to life. Trends in fashion, beauty, wellness, food, travel and shopping. New bath and body products are presented and recommended to tips for fitness and wellness. The shopping trends for the season. Gala shows he Society . Se where the celebrities meet, See how they live. Read what they think. Feel what they feel. It s the bible for people interested in the club scene.