Record Collector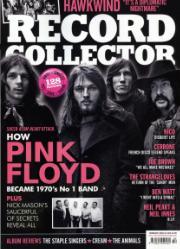 Click for a bigger cover
| | |
| --- | --- |
| Art. no. | 2180 |
| Title | Record Collector |
| Issue | 202002 |
| Sales date | Feb. 11, 2020 |
| In store until | March 17, 2020 |
| Price Sweden | 115.00 SEK |
| Price Norway | 135.00 kr |
| Country | Storbritannien (GB) |
| No of issues | 13/year |
Find a dealer
Search for retailers near you:
Buy online
You can subscribe or purchase a single issue of this magazine through pressbyrån.se Buy
---
Description
The only magazine catering for the serious record, CD, video and pop memorabilia collector. Each month the magazine spans 50 years of music history, covering every era and every genre - pop, rock, psychedelia, soul, rock & roll, reggae, soundtracks - and more. Record Collector uses expert writers from around the world to present a comprehensive package of detailed and fascinating features, news, reviews, interviews, valuations and advice. Vinyl, CDs, DVDs, books, posters, memorabilia, record fairs, auctions. Every aspect of the booming worldwide market in rock and pop history is captured each month in Record Collector. And with thousands of records and other musical items advertised in every issue, Record Collector is the leading forum for all dealers, buyers and sellers of music collectables.