Foxes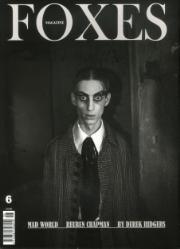 Click for a bigger cover
| | |
| --- | --- |
| Art. no. | 2198 |
| Title | Foxes |
| Issue | 201901 |
| Sales date | Nov. 27, 2018 |
| In store until | Jan. 22, 2019 |
| Price Sweden | 249.00 SEK |
| Price Norway | 294.00 kr |
| Country | Storbritannien (GB) |
| No of issues | 2/year |
Find a dealer
Search for retailers near you:
Buy online
You can subscribe or purchase a single issue of this magazine through pressbyrån.se Buy
---
Description
We¿re bringing back the days when people would be as excited to see what Mick Jagger was going to wear on stage as they were about hearing their favorite song. The blend of fashion and music had been neglected by the publishing world. We set out to provide an insight into the latest fashion trends and interviews with iconic figures in the fashion and entertainment industry with editorials shot and styled by industry professionals on the brink of international success.