Geo Epoche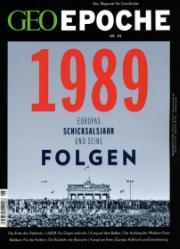 Click for a bigger cover
| | |
| --- | --- |
| Art. no. | 2218 |
| Title | Geo Epoche |
| Issue | 201901 |
| Sales date | Feb. 21, 2019 |
| In store until | March 28, 2019 |
| Price Sweden | 211.00 SEK |
| Price Norway | 251.00 kr |
| Country | Tyskland |
| No of issues | 6/year |
Find a dealer
Search for retailers near you:
Buy online
You can subscribe or purchase a single issue of this magazine through pressbyrån.se Buy
---
Description
A magazine of history that provides exciting reading with good background information on the latest research. Historical reconstructions, reports, interviews, lavish illustrations and essays on each topic title. 2 x per year.