Tattooed!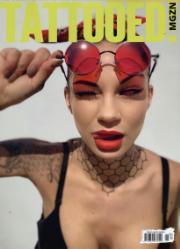 Click for a bigger cover
| | |
| --- | --- |
| Art. no. | 2276 |
| Title | Tattooed! |
| Issue | 201901 |
| Sales date | Oct. 3, 2019 |
| In store until | Nov. 7, 2019 |
| Price Sweden | 89.00 SEK |
| Price Norway | 105.00 kr |
| Country | Storbritannien (GB) |
| No of issues | 6/year |
| Ceases | March 6, 2020 |
Find a dealer
Search for retailers near you:
Buy online
This magazine is unfortunately not available on pressbyrån.se, du kan dock söka återförsäljare här brevid. Buy
---
Description
techniques, new styles and current trends, so you can capture on your skin what you carry inside. In each edition, we will give you everything you need to know about the most acclaimed artists in the tattoo world, where you can see part of their portfolio and find out what makes them so special. Tattooed! is designed to be the main reference for all those who want to get tattooed for the first time or even for the fifteenth time. A person with tattoos will always steal the glances, and we want to be part of that process, of guiding each tattooed in every step of getting the most incredible tattoo on their skin, after all, each one is much more than a simple canvas for the artist, it is a person who wants to show his individuality to the world. Don't be afraid to stain your skin, after all, the only thing that matters is that you have the freedom to express your personality as you see fit, and, from now on, we will be with you every step of the way.