Sport Bild Champ League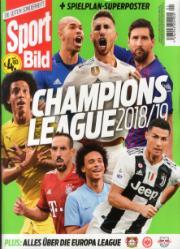 Click for a bigger cover
| | |
| --- | --- |
| Art. no. | 2290 |
| Title | Sport Bild Champ League |
| Issue | 201801 |
| Sales date | Sept. 13, 2018 |
| In store until | Nov. 8, 2018 |
| Price Sweden | 73.00 SEK |
| Price Norway | 87.00 kr |
| Country | Tyskland |
| No of issues | 1/year |
Find a dealer
Search for retailers near you:
Buy online
You can subscribe or purchase a single issue of this magazine through pressbyrån.se Buy
---
Description
All dates, all stars, all teams and all facts. 136 pages about the European cup with playing schedule to fulfill. This special edition informs about all worth knowing of the teams, all players etc.