Computer Music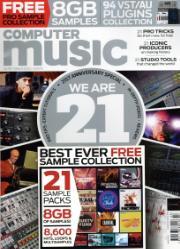 Click for a bigger cover
| | |
| --- | --- |
| Art. no. | 2409 |
| Title | Computer Music |
| Issue | 202003 |
| Sales date | Feb. 11, 2020 |
| In store until | March 17, 2020 |
| Price Sweden | 159.00 SEK |
| Price Norway | 189.00 kr |
| Country | Storbritannien (GB) |
| No of issues | 13/year |
Find a dealer
Search for retailers near you:
Buy online
You can subscribe or purchase a single issue of this magazine through pressbyrån.se Buy
---
Description
Computer Music s goal is to help its readers create great music with a PC or Mac. Each month find easy-to-follow tutorials for all sorts of music software, unbiased reviews of the latest products, answers to technical questions, and a Dual Layer DVD-ROM packed with software and samples. The world¿s best-selling magazine dedicated solely to making music with your Mac or PC. Monthly.