Vogue (DE)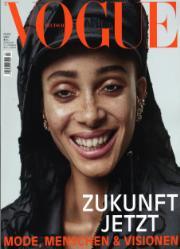 Click for a bigger cover
| | |
| --- | --- |
| Art. no. | 2464 |
| Title | Vogue (DE) |
| Issue | 202003 |
| Sales date | Feb. 13, 2020 |
| In store until | March 19, 2020 |
| Price Sweden | 99.00 SEK |
| Price Norway | 117.00 kr |
| Country | Tyskland |
| No of issues | 12/year |
Find a dealer
Search for retailers near you:
Buy online
You can subscribe or purchase a single issue of this magazine through pressbyrån.se Buy
---
Description
Vogue is the leading fashion magazine. It is about everything that is trendy and create international demand. The magazine has a fascinating and opulent photo series in perfection. Editorial and interviews on culture, travel, people and fashion. The German edition.