Vanity Fair (UK)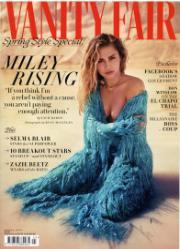 Click for a bigger cover
| | |
| --- | --- |
| Art. no. | 2480 |
| Title | Vanity Fair (UK) |
| Issue | 201933 |
| Sales date | March 19, 2019 |
| In store until | April 23, 2019 |
| Price Sweden | 109.00 SEK |
| Price Norway | 129.00 kr |
| Country | Storbritannien (GB) |
| No of issues | 12/year |
Find a dealer
Search for retailers near you:
Buy online
You can subscribe or purchase a single issue of this magazine through pressbyrån.se Buy
---
Description
Vanity Fair delivers international news and features of an unsurpassed quality; wit, fun and glamour - from presidents to movie premieres. Each issue of Vanity Fair is a fascinating chronicle of the famous, the infamous, the influential, and the up-and-coming. Vanity Fair s spotlight is on the movers and shakers in theater and art, politics, sports, industry, design and film. Monthly.