New Scientist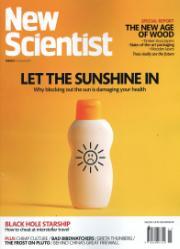 Click for a bigger cover
| | |
| --- | --- |
| Art. no. | 2539 |
| Title | New Scientist |
| Issue | 201911 |
| Sales date | March 26, 2019 |
| In store until | April 9, 2019 |
| Price Sweden | 89.00 SEK |
| Price Norway | 105.00 kr |
| Country | Storbritannien (GB) |
| No of issues | 52/year |
Find a dealer
Search for retailers near you:
Buy online
You can subscribe or purchase a single issue of this magazine through pressbyrån.se Buy
---
Description
New Scientist is the premier, news breaking weekly covering, in a non-specialized way, the fields of science and technology. It has a high reputation for accurate, intelligent and up to date comments & reports that affect our lives. Weekly.