Hifi News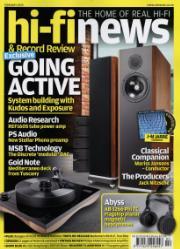 Click for a bigger cover
| | |
| --- | --- |
| Art. no. | 2583 |
| Title | Hifi News |
| Issue | 202002 |
| Sales date | Jan. 28, 2020 |
| In store until | March 3, 2020 |
| Price Sweden | 125.00 SEK |
| Price Norway | 149.00 kr |
| Country | Storbritannien (GB) |
| No of issues | 12/year |
Find a dealer
Search for retailers near you:
Buy online
You can subscribe or purchase a single issue of this magazine through pressbyrån.se Buy
---
Description
Hi-Fi News & Record Review, the longest serving and most prestigious hi-fi and music magazine in the world. Since its launch in June 1956 - two years before the commercial realisation of stereo - Hi-Fi News & Record Review has been delivering insightful reviews of the key products and technologies that lie behind our shared hobby... the passion of listening to music on the very best equipment available to the enthusiast. Every issue, Hi-Fi News delivers uniquely in-depth reviews of high-end audio equipment, including the best in vinyl replay and iconic vintage gear from the early days of audio. It is essential reading for all music enthusiasts.