Boxing Monthly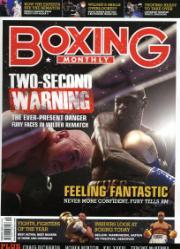 Click for a bigger cover
| | |
| --- | --- |
| Art. no. | 2704 |
| Title | Boxing Monthly |
| Issue | 202002 |
| Sales date | Feb. 13, 2020 |
| In store until | March 19, 2020 |
| Price Sweden | 129.00 SEK |
| Price Norway | 149.00 kr |
| Country | Storbritannien (GB) |
| No of issues | 12/year |
Find a dealer
Search for retailers near you:
Buy online
You can subscribe or purchase a single issue of this magazine through pressbyrån.se Buy
---
Description
Boxing has become a much more high profile sport in recent years. This may have something to do with a number of recent films being released on boxing legends of days gone by. Films such as Ali and The Fighter have probably helped to raise the profile of the sport in the public eye. The sport is hugely addictive to watch. This is probably something to do with the raw nature of the sport. Boxers have to be in peak condition and they often risk serious injury every time they have a serious fight. This makes the interviews with current champions very interesting to read. We wanted to find out why boxers put themselves through the ordeal of fights time and time again! We really admire people who have the nerve to become boxers. We think that readers will find the articles inspiring and a fascinating insight into the harsh world of boxing.