Mustang Monthly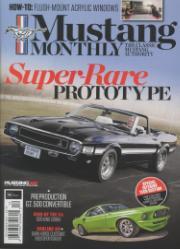 Click for a bigger cover
| | |
| --- | --- |
| Art. no. | 2748 |
| Title | Mustang Monthly |
| Issue | 201712 |
| Sales date | Dec. 19, 2017 |
| In store until | Jan. 23, 2018 |
| Price Sweden | 95.00 SEK |
| Price Norway | 112.00 kr |
| Country | USA |
| No of issues | 12/year |
| Ceases | April 1, 2020 |
| Reason | Please be advised of the Mustang Monthly of TEN PUBLISHING are the LAST ISSUES TO BE DISTRIBUTED ON NEWSSTAND. Sista utgåvan är 202001. //20200116 SW |
Find a dealer
Search for retailers near you:
Buy online
This magazine is unfortunately not available on pressbyrån.se, du kan dock söka återförsäljare här brevid. Buy
---
Description
Mustang Monthly offers enthusiasts of the Ford classic the latest technical how-to information, historical facts, club directories, and maintenance tips. The magazine caters to the late-model market as well as restoration hobbyists, with articles on 1979 through present Mustangs designed to help motorists enjoy their 5.0s on a daily basis. Features maintain an emphasis on budget and street-oriented, do-it-yourself modifications.