Finescale Modeler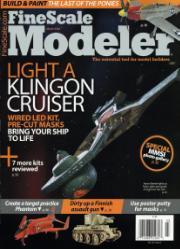 Click for a bigger cover
| | |
| --- | --- |
| Art. no. | 2856 |
| Title | Finescale Modeler |
| Issue | 202003 |
| Sales date | Feb. 25, 2020 |
| In store until | March 31, 2020 |
| Price Sweden | 159.00 SEK |
| Price Norway | 189.00 kr |
| Country | USA |
| No of issues | 9/year |
Find a dealer
Search for retailers near you:
Buy online
You can subscribe or purchase a single issue of this magazine through pressbyrån.se Buy
---
Description
FineScale Modeler magazine is the essential tool for modelers of all skill levels. Learn how to create models of aircraft, armor, ships, cars and more. Every issue provides clear, well-illustrated articles that show how to assemble the latest model kits and how to master painting and finishing techniques. Kit reviews, new kit and product announcements, tips from the experts, and a gallery of readers' models make every issue packed with value.