Hifi World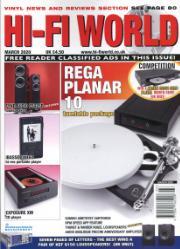 Click for a bigger cover
| | |
| --- | --- |
| Art. no. | 2887 |
| Title | Hifi World |
| Issue | 202003 |
| Sales date | Feb. 11, 2020 |
| In store until | March 17, 2020 |
| Price Sweden | 119.00 SEK |
| Price Norway | 139.00 kr |
| Country | Storbritannien (GB) |
| No of issues | 12/year |
Find a dealer
Search for retailers near you:
Buy online
This magazine is unfortunately not available on pressbyrån.se, du kan dock söka återförsäljare här brevid. Buy
---
Description
Hi-Fi World continues to be the must-have magazine for audio enthusiasts around the globe. Filled with articles from top hi-fi journalists, plenty of surprises, regular D.I.Y. supplements plus lots more, the Hi-Fi World team aims to bring you a uniquely broad and knowledgeable view of the latest audio news and equipment whilst paying our respect to the classics of yesteryear.