Hifi Choice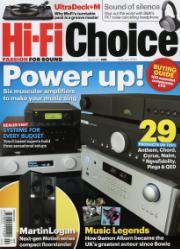 Click for a bigger cover
| | |
| --- | --- |
| Art. no. | 2944 |
| Title | Hifi Choice |
| Issue | 202022 |
| Sales date | Feb. 11, 2020 |
| In store until | March 17, 2020 |
| Price Sweden | 119.00 SEK |
| Price Norway | 141.00 kr |
| Country | Storbritannien (GB) |
| No of issues | 12/year |
Find a dealer
Search for retailers near you:
Buy online
You can subscribe or purchase a single issue of this magazine through pressbyrån.se Buy
---
Description
May s Hi-Fi Choice magazine has the usual wide range of features and equipment reviews, including our unique blind listening group test. It now includes Choice Extras, a special section of the magazine focusing on affordable accessories to help you get the best possible sound from your system. Alongside this, we re featuring our new Choice Apps section, for users of smartphones and tablets who want more music-related functionality.