Office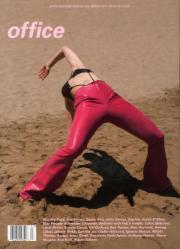 Click for a bigger cover
| | |
| --- | --- |
| Art. no. | 3146 |
| Title | Office |
| Issue | 201802 |
| Sales date | Oct. 16, 2018 |
| In store until | Dec. 11, 2018 |
| Price Sweden | 299.00 SEK |
| Country | Storbritannien (GB) |
| No of issues | 2/year |
Find a dealer
Search for retailers near you:
Buy online
You can subscribe or purchase a single issue of this magazine through pressbyrån.se Buy
---
Description
OFFICE Magazine provides an unorthodox approach to fashion and creative culture at large. This bi-annual magazine is a collection of original personalities from out of the ordinary lives. OFFICE advocates impulsive expression and welcomes raw material and general mischief! Each issue showcases the work of renowned talents in fashion styling and photography and presents a spectrum of characters from the realm of celebrity to the realm of the unfamiliar.