Luncheon Magazine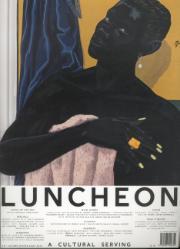 Click for a bigger cover
| | |
| --- | --- |
| Art. no. | 3312 |
| Title | Luncheon Magazine |
| Issue | 201802 |
| Sales date | Nov. 6, 2018 |
| In store until | Jan. 3, 2019 |
| Price Sweden | 215.00 SEK |
| Price Norway | 254.00 kr |
| Country | Storbritannien (GB) |
| No of issues | 2/year |
Find a dealer
Search for retailers near you:
Buy online
You can subscribe or purchase a single issue of this magazine through pressbyrån.se Buy
---
Description
In-depth features on art, fashion, culture, mixed with extraordinary fashion and style stories. Worldly and glamorous Luncheon invites an impressive list of guests to share their views, life and work over lunch! From simple jam sandwiches in the park to sumptuous five star restaurants, the conversation and visual content is created by a top table of writers, photographers, and artists, where no idea is too abstract, witty or sophisticated. Completely original, Luncheon is setting the standard for the new generation of style and culture magazines of our times.