Continental Modeller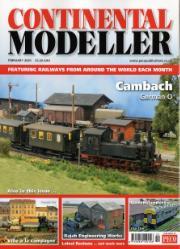 Click for a bigger cover
| | |
| --- | --- |
| Art. no. | 3462 |
| Title | Continental Modeller |
| Issue | 202002 |
| Sales date | Jan. 30, 2020 |
| In store until | March 5, 2020 |
| Price Sweden | 115.00 SEK |
| Price Norway | 135.00 kr |
| Country | Storbritannien (GB) |
| No of issues | 12/year |
Find a dealer
Search for retailers near you:
Buy online
You can subscribe or purchase a single issue of this magazine through pressbyrån.se Buy
---
Description
Devoted exclusively to scale models of the railways outside Britain. Regarded as essential reading for every enthusiast who models the different railways of the world, each month it shows you how to reproduce foreign railway scenes perfectly and is filled with regular tips and articles intended to inspire beginners and experts alike. Filled with many exciting photographs, illustrations and plan layouts, it also boasts a huge range of display advertisements for those seeking to purchase further model equipment. Its overseas product, video and book reviews are also unparalled. The magazine commenced in 1979 as an occasional extra to RAILWAY MODELLER, when one of its initial aims was to report on the Nüremberg Trade Fair - an annual Spring event that CONTINENTAL MODELLER still gives extensive and unparalled English-language coverage to.