Heat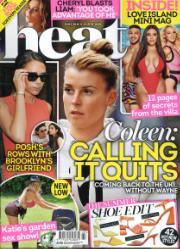 Click for a bigger cover
| | |
| --- | --- |
| Art. no. | 3500 |
| Title | Heat |
| Issue | 201923 |
| Sales date | June 18, 2019 |
| In store until | July 2, 2019 |
| Price Sweden | 49.00 SEK |
| Price Norway | 59.00 kr |
| Country | Storbritannien (GB) |
| No of issues | 52/year |
Find a dealer
Search for retailers near you:
Buy online
You can subscribe or purchase a single issue of this magazine through pressbyrån.se Buy
---
Description
If you re the kind of person who wants the best and the latest in entertainment news, gossip, reviews and listings, then HEAT is for you. Heat is a sensational, totally new entertainment guide and is the only weekly magazine of its type. Condensing all the hot entertainment news into bite sized chunks. Every week Heat gives you the latest news, features and trivia about the people who entertain you. Plus honest, entertaining reviews of the most important movies, TV, videos and CD releases. Includes weekly TV guide.