Boat Exclusive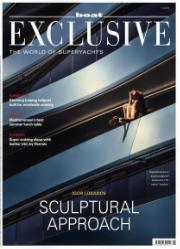 Click for a bigger cover
| | |
| --- | --- |
| Art. no. | 3665 |
| Title | Boat Exclusive |
| Issue | 201901 |
| Sales date | Jan. 24, 2019 |
| In store until | March 21, 2019 |
| Price Sweden | 120.00 SEK |
| Price Norway | 142.00 kr |
| Country | Tyskland |
| No of issues | 2/year |
Find a dealer
Search for retailers near you:
Buy online
You can subscribe or purchase a single issue of this magazine through pressbyrån.se Buy
---
Description
BOAT EXCLUSIVE presents six times a year the world of the finest large motor and sailing yachts. Experience luxurious boats, extravagant interiors and supreme technology. Providing expert insight into the world of superyachts in compelling articles and with German dedication to quality, the magazine has achieved a global audience. The editorial team of BOAT EXCLUSIVE combines yacht expertise with great writing: the best water sports writers and correspondents from seven countries provide an in-depth coverage that is unrivalled in the market.P acked with news and reports from the world of superyachts from the makers of BOOTE.