Model Rail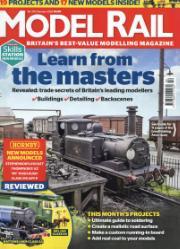 Click for a bigger cover
| | |
| --- | --- |
| Art. no. | 3752 |
| Title | Model Rail |
| Issue | 202002 |
| Sales date | Feb. 6, 2020 |
| In store until | March 12, 2020 |
| Price Sweden | 129.00 SEK |
| Price Norway | 145.00 kr |
| Country | Storbritannien (GB) |
| No of issues | 12/year |
Find a dealer
Search for retailers near you:
Buy online
You can subscribe or purchase a single issue of this magazine through pressbyrån.se Buy
---
Description
Model Rail - now published EVERY MONTH. More to read, more to look at, more to do. Model Rail has a fresh new approach to model railway magazines; it shows you how to get the best from your hobby. Essential reading for anyone interested in railway modelling. Monthly.