Strassenbahn Magazin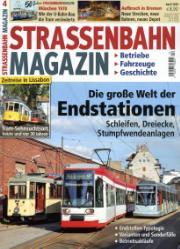 Click for a bigger cover
| | |
| --- | --- |
| Art. no. | 3812 |
| Title | Strassenbahn Magazin |
| Issue | 202004 |
| Sales date | April 9, 2020 |
| In store until | May 14, 2020 |
| Price Sweden | 118.00 SEK |
| Price Norway | 140.00 kr |
| Country | Tyskland |
| No of issues | 12/year |
Find a dealer
Search for retailers near you:
Buy online
You can subscribe or purchase a single issue of this magazine through pressbyrån.se Buy
---
Description
Magazine dealing with all that tram world has to offer! The magazine for all tram and suburban friends come out every month. It contains detailed reports of transport companies in Germany, Europe and worldwide, news about the automotive industry, innovations, changes in work practices and the networking, etc. The magazine is supplemented with a historical part where long-forgotten business is portrayed, it also includes vehicle descriptions, historical background and anecdotes. A separate editorial part of the paper explains the key innovations, investment suggestions, ideas, crafts and presents especially successful models and model systems.