Black Beauty & Hair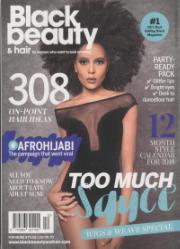 Click for a bigger cover
| | |
| --- | --- |
| Art. no. | 3816 |
| Title | Black Beauty & Hair |
| Issue | 201706 |
| Sales date | Dec. 5, 2017 |
| In store until | Jan. 9, 2018 |
| Price Sweden | 93.00 SEK |
| Country | Storbritannien (GB) |
| No of issues | 6/year |
| Ceases | Jan. 1, 2020 |
| Reason | Upphör pga låg försäljning, sista utgåvan är issue oct/nov 2019. 20190628/SW |
Find a dealer
Search for retailers near you:
Buy online
This magazine is unfortunately not available on pressbyrån.se, du kan dock söka återförsäljare här brevid. Buy
---
Description
Europe s most popular hair and beauty magazine. Black Beauty & Hair was launched in the summer of 1982. From the very beginning, Black Beauty & Hair has set a standard that is envy of magazines throughout the world. Our aim is very simple. We want to give our readers the very best magazine that we possibly can. It means working with trend setting salons worldwide to get cutting edge styles, briefing our journalists to thoroughly research articles and present the latest in hair and beauty news. We also feel that you want a magazine that is designed to the highest standard. We are proud of the fact that we have many readers whose collection of back issues of Black Beauty & Hair is more comprehensive than ours. We would like to feel that we repay this loyalty by continually being at the forefront of hair and beauty trends. Bi-monthly.