Your Cat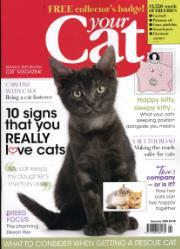 Click for a bigger cover
| | |
| --- | --- |
| Art. no. | 3869 |
| Title | Your Cat |
| Issue | 202002 |
| Sales date | Jan. 28, 2020 |
| In store until | March 3, 2020 |
| Price Sweden | 119.00 SEK |
| Country | Storbritannien (GB) |
| No of issues | 12/year |
Find a dealer
Search for retailers near you:
Buy online
You can subscribe or purchase a single issue of this magazine through pressbyrån.se Buy
---
Description
If you have never come across our magazine before, you are in for a real treat. Every month we pack 100 pages full of cats. It s the magazine for caring cat owners, covering health and behaviour, general care advice, breed information, and other practical issues. There are also lots of entertaining articles, true life tales, photographs of readers cats, letters, competitions, freebies to send for and much more.