Horse & Rider (Uk)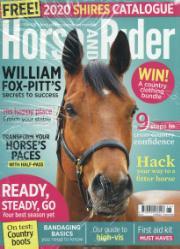 Click for a bigger cover
| | |
| --- | --- |
| Art. no. | 3874 |
| Title | Horse & Rider (Uk) |
| Issue | 202098 |
| Sales date | Feb. 20, 2020 |
| In store until | March 26, 2020 |
| Price Sweden | 115.00 SEK |
| Price Norway | 136.00 kr |
| Country | Storbritannien (GB) |
| No of issues | 12/year |
Find a dealer
Search for retailers near you:
Buy online
You can subscribe or purchase a single issue of this magazine through pressbyrån.se Buy
---
Description
It is at the forefront of the move towards classical riding and promotes more humane, natural methods of keeping and caring for horses. H&R uses leading experts to produce in-depth articles on their specialist subjects. The complete horse magazine. You ll find the very best advice in Horse&Rider. Packed full of informative features from top equestrian experts, it s the perfect magazine for the dedicated rider who wants to improve their riding skills and horse knowledge. Covering all aspects of equestrianism in depth, Horse&Rider actively promotes classical riding principles and humane horse care.