Cardmaking & Papercraf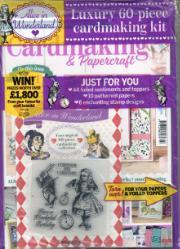 Click for a bigger cover
| | |
| --- | --- |
| Art. no. | 5145 |
| Title | Cardmaking & Papercraf |
| Issue | 202002 |
| Sales date | Feb. 11, 2020 |
| In store until | March 17, 2020 |
| Price Sweden | 183.00 SEK |
| Price Norway | 216.00 kr |
| Country | Storbritannien (GB) |
| No of issues | 13/year |
Find a dealer
Search for retailers near you:
Buy online
You can subscribe or purchase a single issue of this magazine through pressbyrån.se Buy
---
Description
Cardmaking & Papercraft is the brand new British magazine devoted entirely to cardmaking and papercraft. It s packed with inspiring new cards from the very best designers and exciting papercraft ideas. Every project is accompanied by clear step-by-step instructions for the perfect finish every time. Plus, discover and learn all the new papercraft techniques you ll need to make the most beautiful card and paper gifts. Monthly.