Archaeology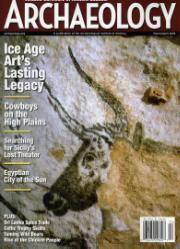 Click for a bigger cover
| | |
| --- | --- |
| Art. no. | 5170 |
| Title | Archaeology |
| Issue | 201902 |
| Sales date | March 14, 2019 |
| In store until | April 18, 2019 |
| Price Sweden | 119.00 SEK |
| Price Norway | 139.00 kr |
| Country | USA |
| No of issues | 6/year |
Find a dealer
Search for retailers near you:
Buy online
You can subscribe or purchase a single issue of this magazine through pressbyrån.se Buy
---
Description
An Official Publication of the Archaeological Institute of America. Archaeology is the only magazine to bring worldwide archaeology to the attention of the general public. Its field reports and regional surveys, written by archaeologists and edited for readers, provide up-to-the-minute coverage of the latest discoveries, the most current groundbreaking research, and the people who make it all happen. Bi-monthly.