Womens Health (US)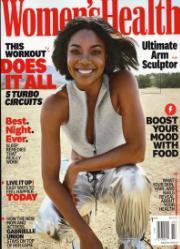 Click for a bigger cover
| | |
| --- | --- |
| Art. no. | 5182 |
| Title | Womens Health (US) |
| Issue | 201902 |
| Sales date | March 14, 2019 |
| In store until | April 18, 2019 |
| Price Sweden | 99.00 SEK |
| Price Norway | 117.00 kr |
| Country | USA |
| No of issues | 13/year |
Find a dealer
Search for retailers near you:
Buy online
You can subscribe or purchase a single issue of this magazine through pressbyrån.se Buy
---
Description
Women s Health is about¿real life, with real challenges and real accomplishments. We feel as though our mission is to break all the rules when it comes to women s magazines: no more pandering fluff and patter, no more lightweight advice, and no more underestimating you, the reader¿your goals, your desires, and your abilities. We know life can throw some tough stuff at you, but we still believe that you can do, be, and have everything you want. And we re here to help you make that happen. With humor and genuine understanding, we ll offer life-changing solutions to your daily challenges. Bi-yearly.