Officiel Homme /Le/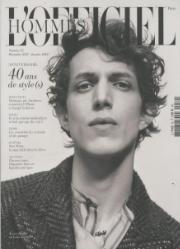 Click for a bigger cover
| | |
| --- | --- |
| Art. no. | 5273 |
| Title | Officiel Homme /Le/ |
| Issue | 201707 |
| Sales date | Dec. 21, 2017 |
| In store until | Jan. 18, 2018 |
| Price Sweden | 89.00 SEK |
| Price Norway | 105.00 kr |
| Country | Frankrike |
| No of issues | 4/year |
| Ceases | Jan. 1, 2020 |
| Reason | Låg försäljning, sista utgåvan är issue 64. 20190603/SW |
Find a dealer
Search for retailers near you:
Buy online
This magazine is unfortunately not available on pressbyrån.se, du kan dock söka återförsäljare här brevid. Buy
---
Description
French fashion magazine. A magazine made ¿¿by a stylist, not a journalist. Marie-José Susskind Jalou asked one of the three founders of the Colette shop in Paris, Milan Vukmirovic, to do a magazine that is 100% on the season s fashion trends and to make a presentation of luxury for men. Milan Vukmirovic, who worked for Tom Ford and Jil Sander, gives a different perspective on fashion. Quarterly.