GQ Style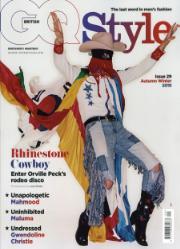 Click for a bigger cover
| | |
| --- | --- |
| Art. no. | 5550 |
| Title | GQ Style |
| Issue | 201902 |
| Sales date | Oct. 1, 2019 |
| In store until | Nov. 26, 2019 |
| Price Sweden | 169.00 SEK |
| Price Norway | 199.00 kr |
| Country | Storbritannien (GB) |
| No of issues | 2/year |
Find a dealer
Search for retailers near you:
Buy online
You can subscribe or purchase a single issue of this magazine through pressbyrån.se Buy
---
Description
Fashion in an unashamadly masculin context. The new biannual fashion magazine from Condé Nast s GQ stable. Its two issues a year are timed to coincide with the two main fashion seasons - one in the autumn and one in the spring - and its editorial focus is, high-end men s fashion. GQ STYLE also talk about a lifestyle that isn t so obvious.