Tush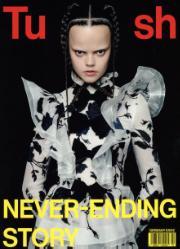 Click for a bigger cover
| | |
| --- | --- |
| Art. no. | 5592 |
| Title | Tush |
| Issue | 201902 |
| Sales date | Sept. 26, 2019 |
| In store until | Nov. 21, 2019 |
| Price Sweden | 198.00 SEK |
| Price Norway | 233.00 kr |
| Country | Tyskland |
| No of issues | 2/year |
Find a dealer
Search for retailers near you:
Buy online
You can subscribe or purchase a single issue of this magazine through pressbyrån.se Buy
---
Description
Beauty is everywhere. Tush magazine is a lifestyle magazine that is about beauty and fashion. It is a sexy and cool magazine for men and women. The paper deals with beauty in a way so that it gets a whole new meaning. Beauty is more than just a perfect facade, more than makeup, hair, body, styling and skin care. Beauty is drama and facial expressions. Beauty is variety, freshness, sex and passion. Beauty fundamental to a full life.