Muse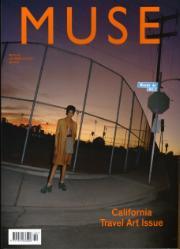 Click for a bigger cover
| | |
| --- | --- |
| Art. no. | 5595 |
| Title | Muse |
| Issue | 202001 |
| Sales date | Jan. 21, 2020 |
| In store until | March 17, 2020 |
| Price Sweden | 205.00 SEK |
| Price Norway | 242.00 kr |
| Country | Storbritannien (GB) |
| No of issues | 4/year |
Find a dealer
Search for retailers near you:
Buy online
You can subscribe or purchase a single issue of this magazine through pressbyrån.se Buy
---
Description
Muse is a new magazine created to reach an extremely select audience. They are leaders and innovators whose success has awarded them esteemed opinions. Designers, stylists, photographers,directors, entrepreneurs, prestigious travellers - appraisers of beauty in all its forms. Muse is in english and italian. Binding as an art book. 4 times a year.