Neon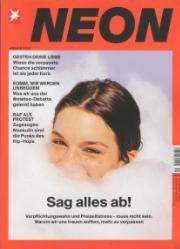 Click for a bigger cover
| | |
| --- | --- |
| Art. no. | 5614 |
| Title | Neon |
| Issue | 201801 |
| Sales date | Dec. 14, 2017 |
| In store until | Jan. 18, 2018 |
| Price Sweden | 73.00 SEK |
| Price Norway | 87.00 kr |
| Country | Tyskland |
| No of issues | 12/year |
| Ceases | March 18, 2019 |
| Reason | Ej på export 20190318/SW |
Find a dealer
Search for retailers near you:
Buy online
This magazine is unfortunately not available on pressbyrån.se, du kan dock söka återförsäljare här brevid. Buy
---
Description
German magazine that provides intelligent entertainment and emotional authenticity. It s about society, politics, fashion, partnership, sexuality, profession, career, travel and pop culture. For men and women between 20 and 35.