Psychologies Magazine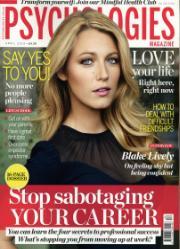 Click for a bigger cover
| | |
| --- | --- |
| Art. no. | 5626 |
| Title | Psychologies Magazine |
| Issue | 201904 |
| Sales date | March 5, 2019 |
| In store until | April 9, 2019 |
| Price Sweden | 119.00 SEK |
| Price Norway | 139.00 kr |
| Country | Storbritannien (GB) |
| No of issues | 12/year |
Find a dealer
Search for retailers near you:
Buy online
You can subscribe or purchase a single issue of this magazine through pressbyrån.se Buy
---
Description
The first women¿s magazine that is about what we are really like, not just what we look like. If you are interested in the ways we think, behave, communicate and connect, then this is for you. Whether you want to develop your own potential, or become a better parent, partner or friend, we will bring you the ideas, insights and inspiration to help you do it. We all have more choices and more demands on our time than ever before. In a fast-changing world, the greatest skill we can have is to understand ourselves, and the people around us. With support from experts, who are leaders in the fields of behaviour, personality, emotions and relationships, we will present practical strategies and mind shifting insights to help you develop that understanding, and to live a richer life. I hope that you will find Psychologies magazine relevant to your life, thought-provoking and above all, useful. Monthly.