Lula Magazine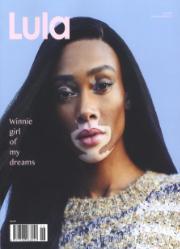 Click for a bigger cover
| | |
| --- | --- |
| Art. no. | 5637 |
| Title | Lula Magazine |
| Issue | 201802 |
| Sales date | Jan. 15, 2019 |
| In store until | March 12, 2019 |
| Price Sweden | 169.00 SEK |
| Price Norway | 199.00 kr |
| Country | Storbritannien (GB) |
| No of issues | 2/year |
Find a dealer
Search for retailers near you:
Buy online
You can subscribe or purchase a single issue of this magazine through pressbyrån.se Buy
---
Description
A cheeky British publication, Lula is a delightful, saucy read and an invaluable addition for all girls at heart. Dreamy, whimsical and quirky, Lula s pages delight with gorgeous fashion, kooky articles and art work gleaned from a wide variety of illustrators, journalists and creators. Love and attention has gone into this mag, and its cuteness is infectuous. Lula is an endearing forum of a publication with oodles of design and pop culture references and articles, with lashings of underground fashions presented in trademark dreamy quality. Bold text means you re free to gaze at the beautiful images and lettering, which is all you want to do, really. Lovers of Frankie and Curvy will gobble this one up.