Last Magazine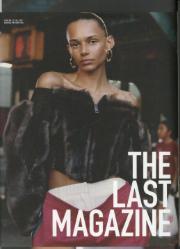 Click for a bigger cover
| | |
| --- | --- |
| Art. no. | 5714 |
| Title | Last Magazine |
| Issue | 201901 |
| Sales date | Oct. 1, 2019 |
| In store until | Nov. 26, 2019 |
| Price Sweden | 249.00 SEK |
| Price Norway | 289.00 kr |
| Country | Storbritannien (GB) |
| No of issues | 2/year |
Find a dealer
Search for retailers near you:
Buy online
You can subscribe or purchase a single issue of this magazine through pressbyrån.se Buy
---
Description
The Last Magazine celebrates the next generation of art, fashion, music, and underground culture. Published biannually in an oversized newspaper format and on thelast-magazine.com, The Last serves as an artistic platform for a new wave of talent. The Last is also the place where an international group of young, smart, cool, and connected readers come to find the latest and greatest in everything t hat interests them. Conceptual in both format and spirit, The Last abides by no preconceived template, establishing new rules and with every issue. It¿s a place for a fresh and completely unpredictable mix of people, places, and ideas. IT¿S ALL THINGS NEW¿at last.