Kick Magazine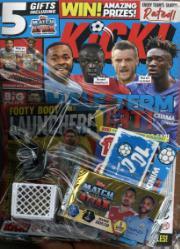 Click for a bigger cover
| | |
| --- | --- |
| Art. no. | 5763 |
| Title | Kick Magazine |
| Issue | 202002 |
| Sales date | Jan. 28, 2020 |
| In store until | March 3, 2020 |
| Price Sweden | 105.00 SEK |
| Price Norway | 125.00 kr |
| Country | Storbritannien (GB) |
| No of issues | 12/year |
Find a dealer
Search for retailers near you:
Buy online
You can subscribe or purchase a single issue of this magazine through pressbyrån.se Buy
---
Description
Kick! is great for 6 to 12-year-old boys and girls who love football and want to know more about their favourite stars. Every month, KICK! takes an exciting, interactive look at the world of football. What were today s top footballers like when they were kids themselves? What do they get up to in their spare time? KICK! is accessible, aspirational and always loads of fun! With free gifts every issue and loads of fantastic competitions, it s even better than going to a footy match itself! Jam-packed with fantastic footy features, player interviews, quizzes, puzzles and huge glossy posters.