Plaza Uomo (UK)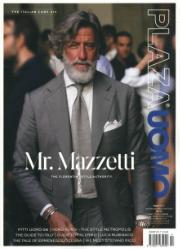 Click for a bigger cover
| | |
| --- | --- |
| Art. no. | 5899 |
| Title | Plaza Uomo (UK) |
| Issue | 202001 |
| Sales date | Jan. 16, 2020 |
| In store until | March 12, 2020 |
| Price Sweden | 99.00 SEK |
| Price Norway | 99.00 kr |
| Country | Storbritannien (GB) |
| No of issues | 2/year |
Find a dealer
Search for retailers near you:
Buy online
You can subscribe or purchase a single issue of this magazine through pressbyrån.se Buy
---
Description
Plaza Uomo is a classic style journal for men, picking up on the booming interest in classic dressing. It's all about know-how, elegance and taste. It is a cicerone to all things sartorial, serving its readers with the secrets behind the perfect suit, shirt or watch.