RCME Special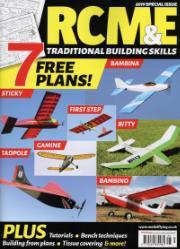 Click for a bigger cover
| | |
| --- | --- |
| Art. no. | 5996 |
| Title | RCME Special |
| Issue | 201901 |
| Sales date | Oct. 15, 2019 |
| In store until | Dec. 10, 2019 |
| Price Sweden | 139.00 SEK |
| Price Norway | 164.00 kr |
| Country | Storbritannien (GB) |
| No of issues | 3/year |
Find a dealer
Search for retailers near you:
Buy online
You can subscribe or purchase a single issue of this magazine through pressbyrån.se Buy
---
Description
RCM&E Special has grown to become the UK s biggest and best selling monthly model flying magazine. RCM&E has brought benchmark levels of writing and photography to the hobby and each issue has extensive reviews, informative features and opinionated columns from a number of well known contributors. With every issue you ll find a high-quality free plan along with an accompanying build article. RCM&E covers all the important issues within the absorbing hobby of radio control model aircraft.