National Geo Traveler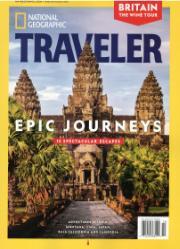 Click for a bigger cover
| | |
| --- | --- |
| Art. no. | 7021 |
| Title | National Geo Traveler |
| Issue | 201902 |
| Sales date | Feb. 28, 2019 |
| In store until | April 4, 2019 |
| Price Sweden | 89.00 SEK |
| Price Norway | 105.00 kr |
| Country | USA |
| No of issues | 8/year |
Find a dealer
Search for retailers near you:
Buy online
You can subscribe or purchase a single issue of this magazine through pressbyrån.se Buy
---
Description
National Geographic Traveler Magazine will help turn your travel into an art form. Each issue takes you to alluring destinations around the world. Vivid writing and (of course!) ready-to-frame photos provide intimate, quirky looks at destinations from Aspen to Morocco to Zurich, and myriad practical tips can smooth and enrich your journeys. Bi-monthly.