The Royals 18 Magical Year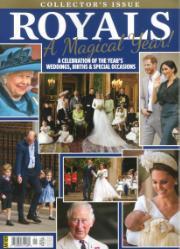 Click for a bigger cover
| | |
| --- | --- |
| Art. no. | 7081 |
| Title | The Royals 18 Magical Year |
| Issue | 201801 |
| Sales date | Nov. 27, 2018 |
| In store until | Jan. 22, 2019 |
| Price Sweden | 129.00 SEK |
| Price Norway | 149.00 kr |
| Country | Storbritannien (GB) |
| No of issues | 1/year |
Find a dealer
Search for retailers near you:
Buy online
You can subscribe or purchase a single issue of this magazine through pressbyrån.se Buy
---
Description
Following the huge interest aroused by Harry and Meghan¿s wedding and the boom in sales of special edition magazines, PPA Independent Publishing Company of the Year, Anthem Publishing, will publish a follow up to its Harry and Meghan Royal Wedding Preview and Celebration issues with this year-in-review special edition. Charting events from Harry and Meghan¿s engagement late last year, through the birth of Prince Louis to the big wedding itself ¿ and then on through the couple¿s first official appearances together and first overseas trips, our special will be must-have collectable for all fans of the `new royals¿. Plus, the title will come out shortly after the wedding of Princess Eugenie, giving a whole host of new pictures of the wider royal family in their pomp.