Glamour (UK)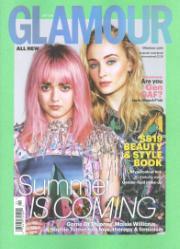 Click for a bigger cover
| | |
| --- | --- |
| Art. no. | 7095 |
| Title | Glamour (UK) |
| Issue | 201901 |
| Sales date | March 19, 2019 |
| In store until | May 14, 2019 |
| Price Sweden | 59.00 SEK |
| Price Norway | 70.00 kr |
| Country | Storbritannien (GB) |
| No of issues | 2/year |
Find a dealer
Search for retailers near you:
Buy online
You can subscribe or purchase a single issue of this magazine through pressbyrån.se Buy
---
Description
The magazine that fits your life and your handbag. The hottest celebrities, great fashion and beauty, in a chic, 21st Century, compact size. A Glamour magazine subscription features all the hottest celebrities, the best fashion and beauty, gripping real-life stories and in-depth features. Plus, with entertainment, health, fitness, food and travel and more, a Glamour magazine subscription is an ideal gift or a luxurious (yet affordable) treat for you! Glamour magazine, which was founded in 1939 in the USA before being launched in the UK in 2000, is one of the best-selling fashion magazines for women. Within the pioneering handbag size format of Glamour magazines pages you will find the best of celebrity style tips, advice and fashion guidance. Other topics featured in the magazine include health, romance and relationships, as well as horoscopes. Glamour magazine also conducts regular polls and contests for the reader to get involved in.