Photo (F)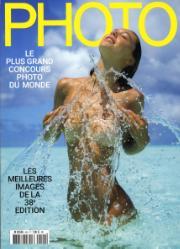 Click for a bigger cover
| | |
| --- | --- |
| Art. no. | 7199 |
| Title | Photo (F) |
| Issue | 201901 |
| Sales date | Jan. 29, 2019 |
| In store until | March 7, 2019 |
| Price Sweden | 145.00 SEK |
| Country | Frankrike |
| No of issues | 10/year |
Find a dealer
Search for retailers near you:
Buy online
You can subscribe or purchase a single issue of this magazine through pressbyrån.se Buy
---
Description
French magasine about photagraphy. It concentrates on the artistic aspects of photography, rather than technical aspects. The editorial line is tripartite: fashion/nude/glamour, historical images of wars/guillotines/poverty or similar, and selected journalism news photos from around the world. It is read and distributed around the world, and is known featuring naked models, colorful saturated graphic images, and its giant annual photo amateur contest.