Outside Magazine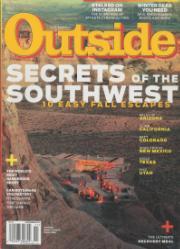 Click for a bigger cover
| | |
| --- | --- |
| Art. no. | 7252 |
| Title | Outside Magazine |
| Issue | 201714 |
| Sales date | Dec. 12, 2017 |
| In store until | Jan. 16, 2018 |
| Price Sweden | 99.00 SEK |
| Price Norway | 119.00 kr |
| Country | USA |
| No of issues | 12/year |
| Ceases | Jan. 1, 2020 |
| Reason | Upphörd pga låg försäljning. 20190417/SW |
Find a dealer
Search for retailers near you:
Buy online
This magazine is unfortunately not available on pressbyrån.se, du kan dock söka återförsäljare här brevid. Buy
---
Description
Outside celebrates the places and moments we ve all experienced or dreamed about in the world outside. Every monthly issue inspires you to enjoy a fuller, more rewarding life through year-round coverage of participatory sports like hiking, biking, and skiing; adventure travel; active gear; health and fitness tips; and captivating photography. Back in 1978, a letter in Outside s first issue stated that the magazine was dedicated to covering the people, sports and activities, politics, art, literature, and hardware of the outdoors, an editorial goal that has stuck ever since. Armed with great writing that s always based on critical thinking and a sharp sense of humor, the magazine has done an amazing job of bringing people in contact with the world outside. Monthly.