Tv Pur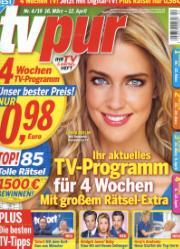 Click for a bigger cover
| | |
| --- | --- |
| Art. no. | 7253 |
| Title | Tv Pur |
| Issue | 201904 |
| Sales date | March 14, 2019 |
| In store until | April 18, 2019 |
| Price Sweden | 30.00 SEK |
| Price Norway | 36.00 kr |
| Country | Tyskland |
| No of issues | 14/year |
Find a dealer
Search for retailers near you:
Buy online
You can subscribe or purchase a single issue of this magazine through pressbyrån.se Buy
---
Description
TV PUR is a German monthly TV guide for young people. For each day there is a presentation of programmes for some 30+ channels available in Germany, including cable and satellite. Tv Pur also include general-interest background stories and highlights on features, movies, actors, directors and topics in general.